In the name of love

In the name of love
is two resin works that explore the definition of 'Mother' and the familial love as unescapable boundary and belonging. This project became a foundation project for
In the name of love : 사랑이란 이름으로
(2019) at SEVENTH Gallery.
Read the short essay
here
In the name of love
was part of the group exhibtion,
Mother
, curated by Latifa Emlrini and Jacinta Keefe:
"In a child's eyes, a mother is a goddess. She can be glorious or terrible, benevolent or filled with wrath, but she commands love either way. I am convinced that this is the greatest power in the universe."
– N.K. Jemisin, The Hundred Thousand Kingdoms (2010)
Mothers, most of us have them in some way or another, but we don't often think about what a Mother is or can be. Mothers can be human or they can be an idea, a feeling, a shadow that follows us, desires from within or presences that make the hair stand up on your arm.
This exhibition doesn't define a mother by the usual definitions, "a woman in relation to her child or children, to bring up a child with care and affection" or "give birth to". We are exploring the effect of the essential force of the "mother" whether it is indeed the person we relate or disassociate with, the animate or inanimate and how it impacts our lives.
Participating artsits: Latifa Elmrini, Jacinta Keefe, Zea Rous, IchikawaEdward, Tess Landells, Zara Sully & Ellen YG Son
View images of the exhibition
here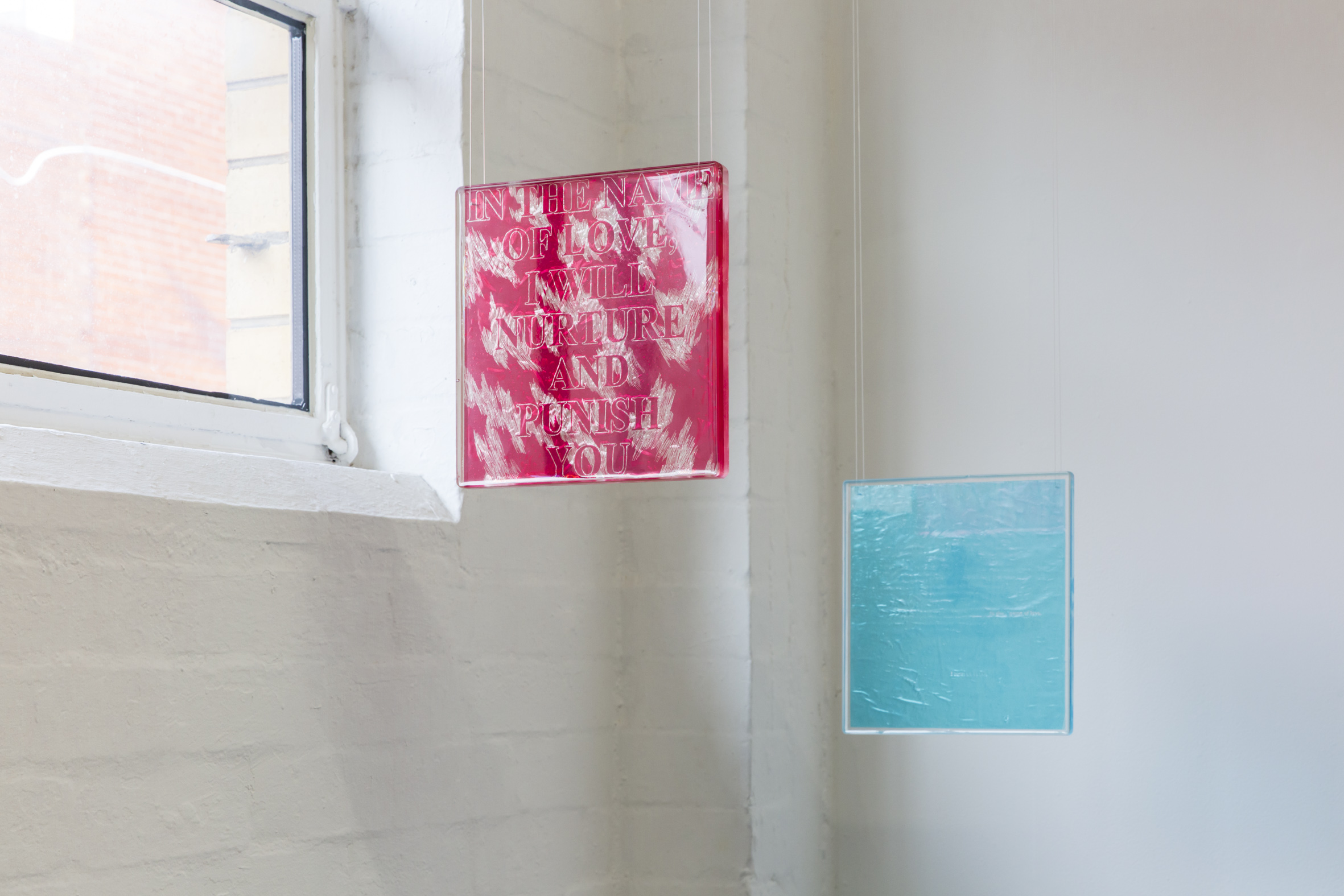 1



2








Details of works:

1 IN THE NAME OF LOVE, I WILL NURTURE AND PUNISH YOU. 2019. Scratched Cellophane and Resin. 234cm x 25cm x 2cm
2 In the(ir) name of love, (그들의) 사랑이란 이름으로

. 2019. Scratched Cellophane and Resin. 23.3cm x 25.5cm x 1.4cm.



Photo credit: Lucy Foster
I acknowledge that I live and workn the unceded land of Wurundjeri and Boon Wurrung peoples. I pay my respects to Elders past, present, and emerging.